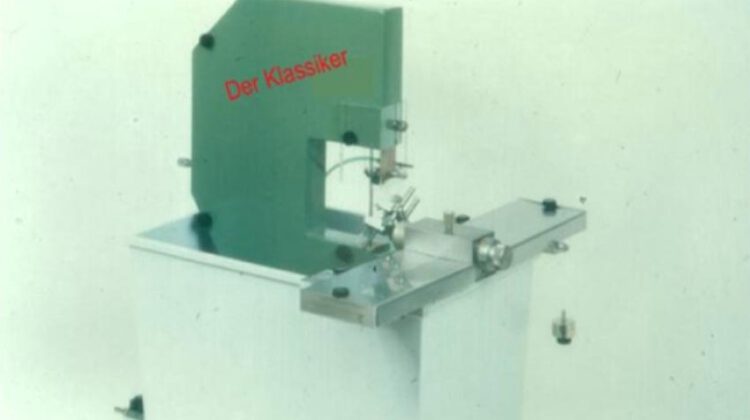 The history of the cutting grinding technique
In order to examine bones histologically, they always have to be decalcified in order to cut them with the help of a microtome. However, when the placement of implants became more and more important, a new examination method had to be developed that also made it possible to separate metals or composite materials, This was not possible with a microtome. There were different approaches to a new technique. These were similar in their initial considerations. The working group of Pesch and Henschke from the pathology department in Erlangen succeeded in producing histological sections in 1973. A diamond circular saw was always used. However, the high pressure caused by the high speed and forced feed of the cutting disk led to injuries in the tissue. The sections were often not suitable for further examination. However, Prof. Pesch's working group did not develop the technique sufficiently. A cutting disc can also only be used for this technique to a limited extent, as the large diameter oscillates at too high a tolerance and thus does not permit thin sections.
In 1979, Prof. Karl Donath had the idea of separating non-cuttable samples with a diamond band saw blade. He met Walter Messner, who at that time was employed in the sales department of a large diamond specialist. The two of them first bought a DIY store band saw and had a diamond band saw blade 0.4mm in D 91 made. However, this was not yet made of stainless steel because laser welding technology did not exist at that time. The first parallel guide was made of normal structural steel and had to be replaced after only a few cuts.
However, Donath, Messner and Karl Donath's doctoral student at the time, Breuner, achieved reproducible results, which were soon published by Karl Donath. There were interested parties for the separation technology, but no saleable separation unit. The Otto Herrmann company agreed to build a saw according to the ideas. Walter Messner, in the meantime self-employed, was commissioned to sell it.
Like everything in life, there are no limits to imagination – so Karl Donath was always coming up with new ideas to further develop the technology. One important point was the grinding technique. Donath gave the specifications – Otto Herrmann built in a grinding device that was capable of producing plane-parallel grindings with a thickness of approx. 30µm.  This was based on the working method of a lapping machine.
A big step forward in the cutting technique was achieved by the so-called CP technique. The advantage of this separation technique is that the sample is permanently moved and thus only one point is in contact at a time. This technique achieves better results much faster. In addition, the diamond coating of the band saw blades is protected.
In 2007, Britta Messner developed the first diamond pathology saw, which uses the principle of the cutting grinding technique to protect the user from infections and injuries. In 2010, a completely new thin sectioning system (lap-grinder) was added, which today produces thin sections in small automatic programmes.
Today, the separating units, which were actually intended exclusively for pathology, are separating thin sections that continue this technique