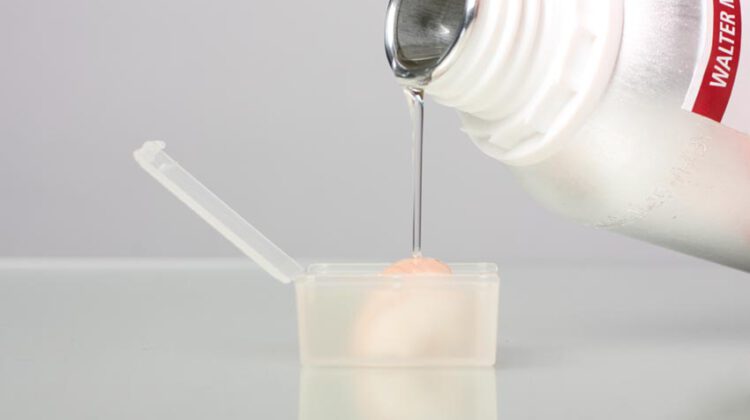 Embedding with EUKITT 4400
EUKITT 4400 is a transparent light-curing resin for embedding histological samples, among others, which cannot be decalcified and thus cannot be cut with a microtome. These include, for example, implant-bearing jaw sections that can only be cut with a diamond band saw (e.g. cut-grinder primus). EUKITT 4400 consists of only one component and is very easy to handle.
It can be ground and polished plane-parallel exceptionally quickly.
For embedding, use transparent moulds made of PT that can be reused and are thin-walled. The embedded specimen can then be easily pressed out of the mould. A lid helps to limit the influence of oxygen and reduce the smear layer.
Work with clean embedding moulds and with clean hands. Place the dehydrated preparation infiltrated with EUKITT 4400 on the bottom of an embedding mould and carefully pour EUKITT 4400 into the embedding mould so that the preparation is completely covered with plastic. Close the lid of the embedding mould and place the ramekins on the drawer insert of the polymerisation unit KARLO.
Close the drawer completely and select the polymerisation time. KARLO will show you the minutes of polymerisation. For EUKITT 4400, the embedding time should be set between 180-210 min under UV light. Due to the built-in air cooling, you do not need water cooling. KARLO automatically ends the polymerisation time after the entered time.
Take the samples out of the unit and press the plastic blocks out of the embedding moulds.
Leave the so-called smear layer on the block and glue the sample onto a suitable plastic slide with the help of a compensating adhesive (Technovit 4000).
Now you can produce a coloured thin section with the help of the separating thin section technique.
| | | |
| --- | --- | --- |
| EUKITT 4400 | 500ml bottle | Walter Messner GmbH |
| Embedding forms | Klick 1 | Walter Messner GmbH |
| Embedding forms | Klick 2 | Walter Messner GmbH |
| Light polymerisation unit Karlo | | Walter Messner GmbH |
| Perspex slide | 25 x 75 x 2 mm | Walter Messner GmbH |
| Perspex slide | 50 x 100 x 2 mm | Walter Messner GmbH |