Pathology and cut-grinding technology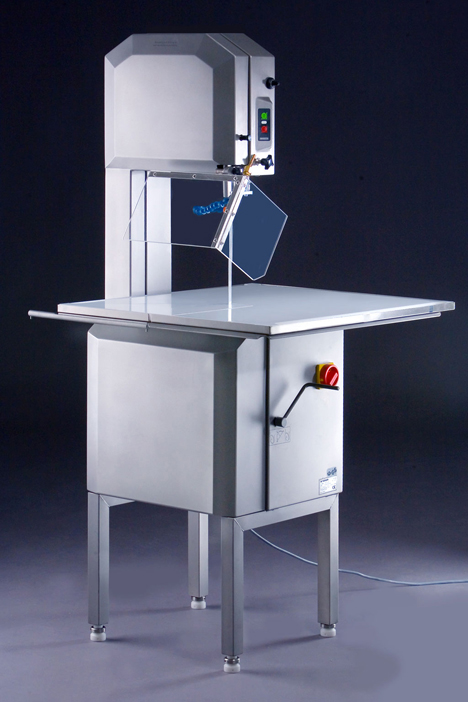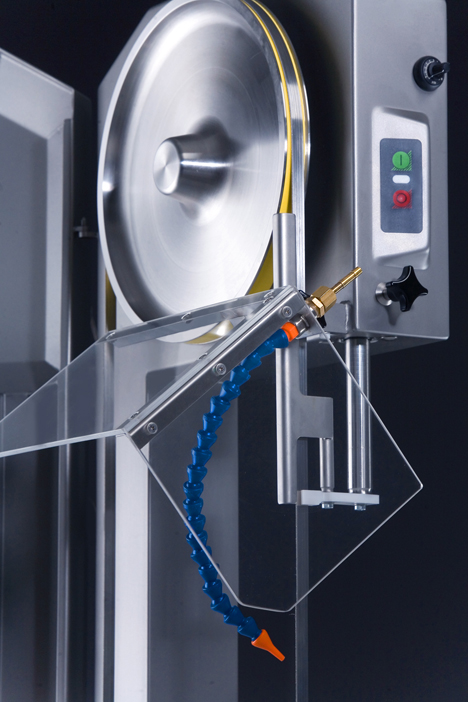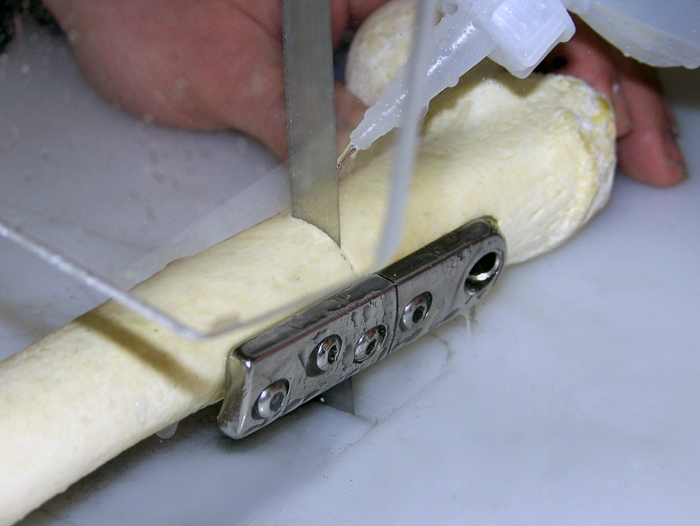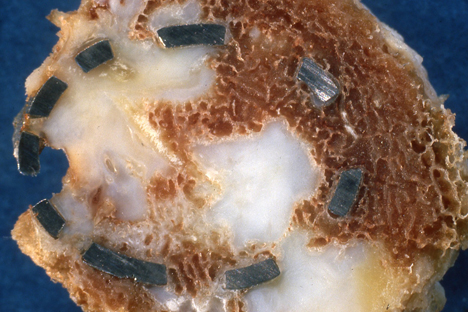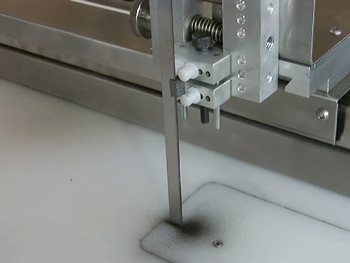 cut-grinder: The diamond pathology saw
The cut-grinder is the globally unique diamond pathology saw with a cut height of up to 330mm! This static cutting and grinding system with fixed work table has been developed for the preparation of tissue, bone and composite materials such as metal and/or ceramic materials. It takes into account the requirements and wishes of leading pathologists and can also be used for thin-section cut-grinding applications.
For cut-grinding, a high-precision diamond-coated cutting band is used. This produces precise sections with exceptional surface quality: The prerequisite for rapid, histological evaluation or further processing.
The diamond cutting band is simply and conveniently tensioned, relieved or removed by means of a lever. Because fastening takes place on the basis of defined values and this is therefore not down to the subjective feeling of the user, overheating, chipping and micro-fractures in the specimen are excluded:
Numerous additional details also make your work significantly easier. The table equipped with a detachable trough, the large work surface, a cutting height of up to 330mm and the stable and adjustable spray guard, which facilitates a complete view of the cutting area.
Additionally, work with the cut-grinder is extremely safe: The non-toothed and slow-running diamond cutting band significantly reduces the risk of injury and infection that exists with conventional band saws. This is also the opinion of the employers' liability insurance association, which has tested and approved the cut-grinder.
The cutting band is constantly sprayed and cooled with fresh water; closed circuit cooling and a trough are not included for reasons of hygiene. The device is produced entirely from stainless steel and is maintenance-free. It can be cleaned with ease, because all external parts are smooth-surfaced and highly accessible. Furthermore, there are no painted surfaces or attachment parts anywhere on the device.
cut-grinder technical data
Motor protection with restart block
Motor brake
Running wheels fully stainless steel, top running wheel can simply be removed
Saw band quick tensioning - no adjustment errors possible
On/off switch with membrane keypad
technical data cut-grinder
| Current | Three-phase A/C current |
| --- | --- |
| Voltage | 230/400 V |
| Frequency | 50 Hz |
| Band speed | Steplessly variable |
| Nominal current draw | 3.6 A |
| Power consumption | 2.0 KW |
| Work table | 800x800 mm |
| Wheel diameter | 315 mm |
| Weight | 110 kg |
| Installation space (WxD) | 500x440 mm |
| External dimensions (WxD) | 777x810x1600 mm |
| Cutting height | max. 330 mm |
Accessories
Cutting band 0.3 mm D 151
Cutting band 0.3mm D 126
Cutting band 0.2 mm D 64
Cutting band 0.1 mm D 64
Cutting band 0.4 mm D 181
Cutting band 0.4 mm D 181 segmented
Yellow running belt
Plastic support plate
Spray guard
Top cutting band guide, plastic
Bottom cutting band guide, plastic
Care solution